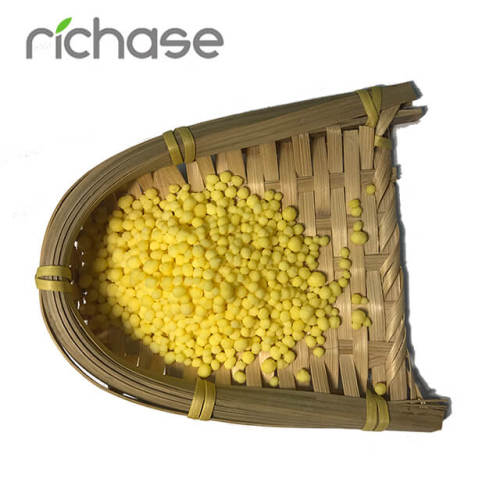 Calcium Ammonium Nitrate + Boron
Item specifics
Color

Yellow
Other Name

CAN
Chemical formula

5Ca(NO3)2·NH4NO3·10H2O
Molecular weight

1080.71
CAS No.

15245-12-2
Appearance

Yellow Granular
Water soluble

Soluble in water
Packing

PP+PE 25/50/1000/1250kg
Loading Port

Tianjin
Certificate

ISO, SGS, CIQ, CCIC, Intertek
Terms of Payment

T/T, L/C, Western Union, MoneyGram, Paypal
Description
Product Description:
Calcium Ammonium Nitrate + Boron is a new nitrogenous and calcareous fertilizer with characteristics of high efficiency and quickly make-up Nitrogen boron trace element, applied in greenhouse and large-area farmland. It improves the soil and granulates the soil making it anti-caking. When employed in industrial crops, flowers, fruits and vegetables, it extends florescence, spurs the root, the stem and the leaf to grow normally, and guarantees fruits in gay colors and increases carbohydrate contents in fruits. It is a high-efficiency environmental protection greening fertilizer. High quality fertilizer with perfect match of nitrogen macro nutrient and boron trace element, effective in improving soil.

Specification: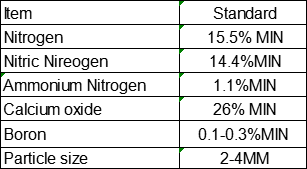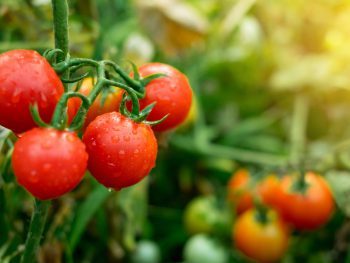 Calcium Nitrate with Boron : (15.5% N + 0.3% B)

Vital for the growth, physical strength, flowering fertilization and fruit set of the plants.

Highly water soluble. Ideal fertilizer for both soil and foliar applications.

Contains dual nutrients calcium and boron important for fruits and vegetables.

Increases uptake of other nutrients and provides uniform shape and color to produce.

Improves the strength of cell wall and plant growth, soil health

Improves crop's and product's luster quality and storage longevity.

Improves tolerance to diseases, pests and environmental stress such as drought, flood, water logging, excessive heat, frost etc.

Increases yield both qualitatively and quantitatively.
Packaging & Storage:
1. Available in 25kg or bulk bag.
2. To be stored in cool, dry and ventilated place,